Tech Share: July/August Recap
At REDspace, knowledge sharing and continuous learning is at the heart of what we do. Every week, our team meets to share tools, resources, and general knowledge about the web and technology industry as a whole. Here's a monthly recap of some of the topics covered in Tech Shares.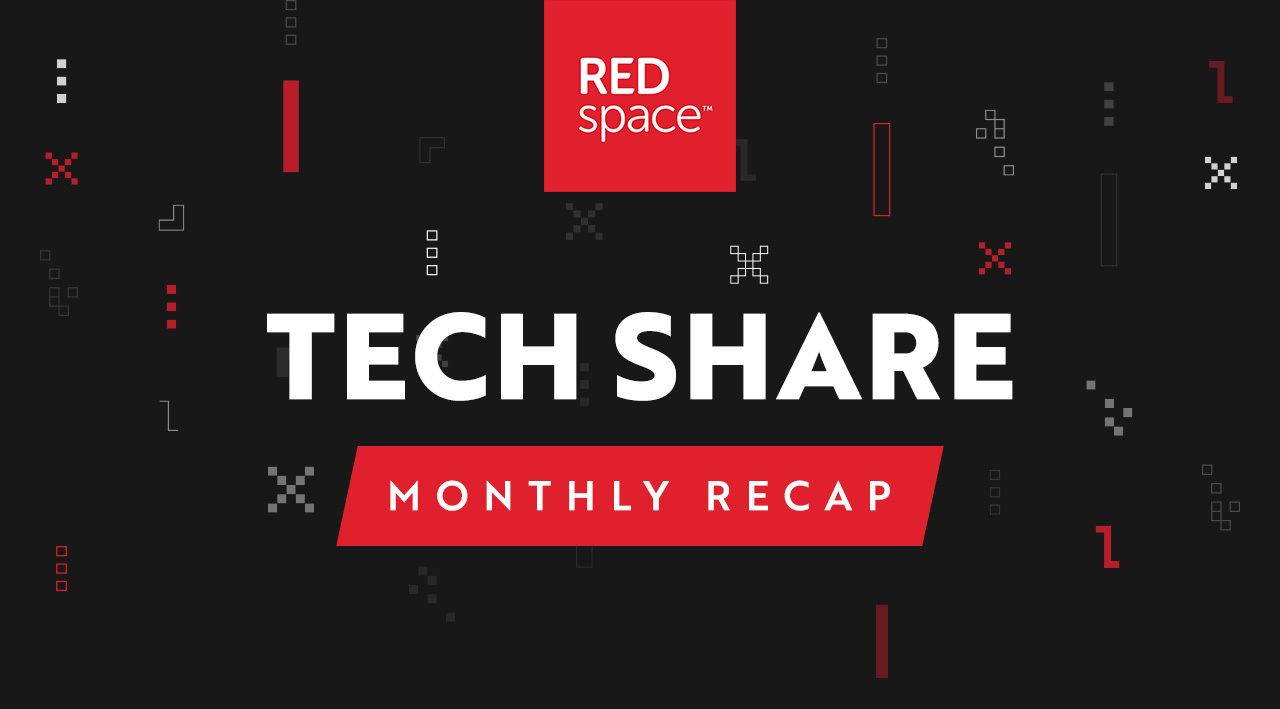 We are fortunate to have a wealth of diverse technical skills and a learning culture that really sets us apart. We love technology and finding new ways to solve problems. This helps us deliver the best solutions in the world to our clients.
In order to maximize this, we facilitate a variety of ways to collaborate and knowledge share within and across different teams. Not only does this keep us at the top of our industry, but it also dramatically helps on-boarding new team members to new projects.
One key way we do this is Tech Shares—a weekly meeting where the REDspace team shares tools, resources, and general knowledge about the web and technology industry as a whole. Here's a monthly recap of some of the topics covered in July and August Tech Shares.
Google I/O 2021 + Android 12 by Pratik Patel
Pratik gave his opinion on the announcements of the last Google I/O and an overview on the new features of Android 12 like the next version of Material Design (Material You), improvements in system performance, news related to privacy, Jetpack Composer, TensorFlow Lite, and more.
WWDC21 Recap by Gui Freitas
Gui recapped the announcements of the 2021 Apple Worldwide Developers Conference, primarily focusing on iOS 15 and exploring the features like the new FaceTime, SharePlay, privacy improvements, Swift Concurrency, news on SwiftUI, Xcode Cloud, and more.
Jetpack Compose by Moises Borges
Moises deep dove on Jetpack Composer, showing concepts, components, and how to implement and integrate designs with the new Android UI Toolkit—all explained through demos.
Logging to A Remote Backend by Gabriel Owoeye
Gabriel went through simple ways to access application logs on remote devices using Kotlin and the most popular logging framework for Android – Timber.
Algorithmic Analysis for Everyone by Mark McKenna
In this "back to basics" presentation, Mark walked us through the fundamentals of Algorithmic Analysis. He explained the concept of Big O notation, typical complexity values we see, and worked through some examples with common algorithms!
QA workflows in Agile by Spencer Burns
This was a great opportunity for our developers to better understand how our Quality Assurance teams address their work and what we can do to make the QA/Dev relationship smooth and easy! Spencer reintroduced the entire agile methodology from the QA point of view and showed us the motivation behind many processes we take for granted.
Angular Reactive Forms by Chris Burton
Working with Angular Forms can have a bit of a learning curve, but it's a very powerful tool every Angular Developer should learn. In this talk, Chris went over the basics and some tips to help simplify the process.
Monorepo tools: A comparison of Monorepo tools for JavaScript by Ali Hashemi
Ali presented a thorough comparison of the different tools for supporting javascript projects stored in large monorepos. Specifically, he showed examples in Lerna, Nx, and Rush and broke-down why you might choose one solution over another based on your project's needs. Stay tuned for a full blog about this.